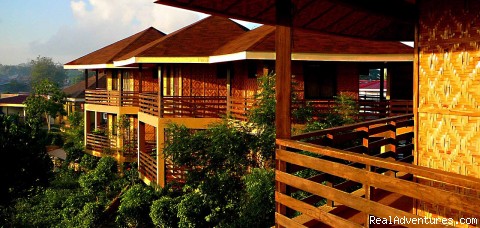 Surrounding Area
Semi-rural countryside near international airport and many water sports such as: fishing, island-hopping, canoeing, walking, diving, snorkeling, parasail, jet ski. Also abundant night life such as: nightclubs, dancing, fine dining.
Accommodations
Where Quality meets AffordabilityCompared with other local resorts, ALTA is not only the newest resort, but also the most affordable 4 star resort in Cebu. ALTA exhibits a standard of excellence in both service and facilities that makes it a truly great value.The environment is that of a traditional Philippine village in a lush, mature garden setting wonderfully reminiscent of a tropical jungle in paradise. Guest rooms offer all the expected creature comforts of a world-class resort, including fast DSL internet hook up. Some rooms also offer stunning views of city and sea.The Resort's 32 guest rooms are spacious and comfortable. Dining from the cuisine of our 5-star executive chef is a most delightful culinary experience, either at our indoor restaurant (with views of the pool and garden) or seated at our poolside coffee shop & pub.ALTA promises to captivate your imagination, as well. American owned and operated, ALTA offers its own guided eco and cultural adventure packages as well as on-site and off-site classes. Included in the room price are 1 hour a day of (optional) classes for improving either one's golf technique or travel English.Whether you come for a day of for a month, you will always feel most warmly welcome at ALTA, the garden paradise of Cebu.
ALTA Cebu Village Resort
RATED the #1 BEST VALUE IN CEBU
Best 4 Star Quality + Delightful Ambiance + Affordable Price
=Great Value
ALTA is the only NEW 4 star resort in Cebu and also the only American Owned and operated resort.
View Image Gallery For ALTA Cebu Village Resort